Angela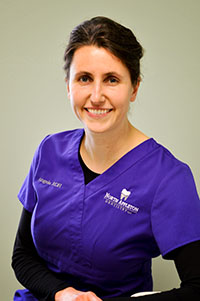 Dental Hygienist
I enjoy getting to know my patients, learning their dental needs, and working with them to meet those needs. It means a lot to me to have built great relationships with my patients and I love the friendships we've grown over the years.
My job is to help patients with their oral health. While addressing everything from routine cleanings to treating periodontal disease, I focus on education. By teaching patients about their oral and overall health, I help them make educated decisions and develop healthier habits.
Outside the office, I enjoy the great outdoors. Over the years I've enjoyed bow and gun hunting during deer seasons, hobby farming, and searching out beautiful waterfalls. I have three children and we're always seeking out new opportunities and new adventures.
Barbara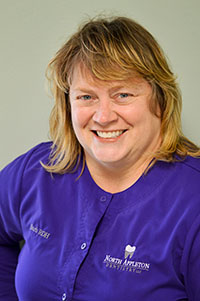 Dental Hygienist
I like getting to know generation after generation of family members and helping each with their dental needs. It's fulfilling to see families grow and change, hear about their adventures and plans, and share in their lives.
I take care of a range of dental hygiene processes, including cleanings, periodontal care, homecare instructions, and diagnostic imaging. I also schedule appointments, confirm needed treatment, and alert our doctors of any soft or hard tissue findings. Additionally, I help with sterilization, laundry, recall, appointment confirmations, and assist my coworkers.
My husband Dan and I have three daughters, a son, and a grandson, granddaughter, and another granddaughter due in February 2018. I also have a Hungarian Vizsla, Addy. Outside of work, I enjoy kayaking, fishing, grouse hunting, golfing, photography, bird watching, watching sports and – most of all – time with my kids and grandkids.
Jessica
Lead Dental Assistant
I love getting to know our patients and helping make their dental experience with us as easy and comfortable as possible. We have a wonderful patient family and I really like getting to know every person. It's fun to hear what's happened since their last visit and share stories of my own.
I assist our doctors with a variety of dental procedures while supporting our patients. I also take radiographs and impressions, sterilize instruments, and offer a lot of patient education.
My time off is spent with my fiancé and our two boys. We especially enjoy the summer months at our cabin, where we fish, boat, hang out by the campfire, and explore the outdoors.
Chelsi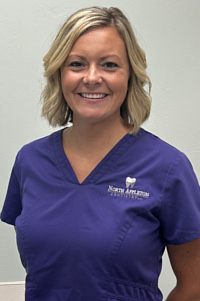 Patient/Insurance Coordinator
I began my dental career in 2009. Having experience as a dental assistant I enjoy helping patients understand their treatment and love answering any questions they have regarding their appointments, insurance, or payment options. I am thankful to work with such a great team here at North Appleton Dentistry.
Outside of work I enjoy spending time with my husband, our two daughters and friends. You can find us at our family cottage during summer months boating, water skiing, wakeboarding, enjoying the summer nights and in winter months ice fishing and snowmobiling taking in the Wisconsin weather. We are an avid Wisconsin sports family; we enjoy watching professionals sports and watching our daughters play sports.
Kay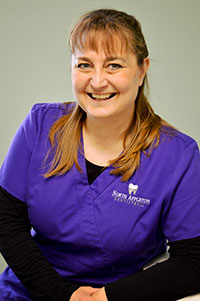 Dental Assistant
I really like working with our patients, doing my best to make sure they have a relaxed and comfortable visit. At the end of a procedure, when someone thanks me for making it easy for them, I'm thrilled!
My job covers an extensive range of duties. I assist the doctors with the many different treatments we provide and make sure our patient is comfortable and ready for their procedure. I take X-rays and impressions and work behind the scenes, too, handling in-office lab work, sterilization, and making sure the rooms are stocked and ready.
I grew up in Wisconsin, lived in Anchorage, AK for 22 years, and moved back to the area several years ago to be closer to family. I enjoyed all that Alaska offered but am now thrilled to be home with my loved ones.
Sarah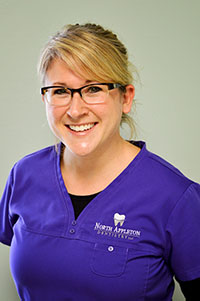 Dental Assistant
I love all the different people who walk through our doors. Spending time learning their stories and figuring out how we can best help them is one of the most rewarding parts of my job.
I work in the clinic, assisting the doctors with an array of dental procedures and offering patient care. I also take and pour cast models, sterilize tools and equipment, and provide a lot of patient education.
I spend my time away from work with my spouse and two kids. We love spending time outdoors. In the summer we love to fish and go boating with friends. In winter we have fun snowmobiling around the yard, ice-skating, and sledding.
Stella
Our Wonderful Therapy Dog!
Stella has been with North Appleton Dentistry since puppyhood. At a young age Stella was trained with Drs. Ruthven and Cepeda at Fox Valley Humane Association for her Therapy Dog Certification and also her canine good citizenship!
This accomplishment of Stella's is exciting as she has quite the background in her young years already. Stella was originally born in the South. There she didn't have the loving family life one would expect for a young puppy and ended up in a shelter.
Our local shelter, Fox Valley Humane Association, runs a program called the Bark Bus where Stella was chosen from an overcrowded southern shelter and picked up to come find her home here in the Fox Valley!! We are so happy she did!! Stella was chosen to be in a program called REBOUND that is also run by the Fox Valley Humane Association, where she could channel all her energy into becoming the well behaved, lovable, and trained therapy dog she is! Stella has found her home with Drs. Ruthven and Cepeda and her calling as North Appleton Dentistry's Therapy Dog.
Stella is Golden Retriever mixed w/ Border Collie and has become accustomed to all things dental! People, sounds of the office, children playing around her and everyone wanting to get to know her! Therapy dogs are trained to provide comfort and affection and she adds that perfect complement to our dental practice.
Stella has a great affection for people and loves to give friendly hellos and companionship in high hopes of getting a belly rub in return and easing any anxious feelings you may have. She will greet everyone in the office, but if you or your family is not accustomed to dogs or would prefer to not have Stella near, the team at North Appleton Dentistry is happy to make arrangements to respect your preferences.
Fun fact about Stella; she is a good sailor and has a pink mermaid lifejacket just for the occasion when she is out on the boat with our doctors. Stella brings out lots of smiles, which we of course love to see, and we look forward to her greeting you when you come through the doors of North Appleton Dentistry.
If anyone is looking for additional information on the Bark Bus or the REBOUND program it can be found at: