Angela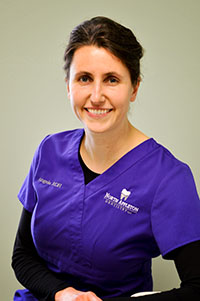 Dental Hygienist
I enjoy getting to know my patients, learning their dental needs, and working with them to meet those needs. It means a lot to me to have built great relationships with my patients and I love the friendships we've grown over the years.
My job is to help patients with their oral health. While addressing everything from routine cleanings to treating periodontal disease, I focus on education. By teaching patients about their oral and overall health, I help them make educated decisions and develop healthier habits.
Outside the office, I enjoy the great outdoors. Over the years I've enjoyed bow and gun hunting during deer seasons, hobby farming, and searching out beautiful waterfalls. I have three children and we're always seeking out new opportunities and new adventures.
Antoinette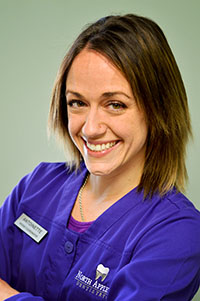 Patient Coordinator
I love building connections with our patients and seeing each achieve their healthiest, happiest smile! It's a joy to serve our community and ensure everyone who comes to us has a great dental experience.
I work at the front desk where I handle everything from scheduling appointments to greeting and checking in patients to checking them out when done. My day is made when someone tells me they had a positive visit and look forward to coming back!
When not working, I love spending quality time with my two children. We like going to the park and movies, snowboarding, and the outdoors. I also enjoy photography and, as we're new to Appleton, we're exploring all the wonderful things the area offers.
Barbara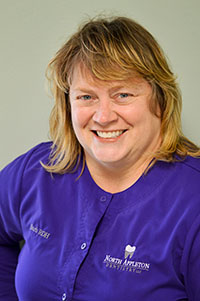 Dental Hygienist
I like getting to know generation after generation of family members and helping each with their dental needs. It's fulfilling to see families grow and change, hear about their adventures and plans, and share in their lives.
I take care of a range of dental hygiene processes, including cleanings, periodontal care, homecare instructions, and diagnostic imaging. I also schedule appointments, confirm needed treatment, and alert our doctors of any soft or hard tissue findings. Additionally, I help with sterilization, laundry, recall, appointment confirmations, and assist my coworkers.
My husband Dan and I have three daughters, a son, and a grandson, granddaughter, and another granddaughter due in February 2018. I also have a Hungarian Vizsla, Addy. Outside of work, I enjoy kayaking, fishing, grouse hunting, golfing, photography, bird watching, watching sports and – most of all – time with my kids and grandkids.
Jacci
Office Manager
I am a people person and enjoy meeting new people every day and making new friends. I love to talk with everyone and learn about their lives and families. I think of our patients as friends, instead of "patients," and truly enjoy working with and getting to know them.
As the office manager, I handle the day-to-day operations of the company. It's essential we're running smoothly and efficiently so each patient has a stress-free, positive visit.
When I'm not at the office helping others, I enjoy time with my husband and kids. We love being outside and like spelunking, kayaking, and playing in the sand dunes on Lake Michigan. During winter months, when the conditions aren't right for snowshoeing, I like curling up with a good book or taking on a fun sewing project.
Jessica
Lead Dental Assistant
I love getting to know our patients and helping make their dental experience with us as easy and comfortable as possible. We have a wonderful patient family and I really like getting to know every person. It's fun to hear what's happened since their last visit and share stories of my own.
I assist our doctors with a variety of dental procedures while supporting our patients. I also take radiographs and impressions, sterilize instruments, and offer a lot of patient education.
My time off is spent with my fiancé and our two boys. We especially enjoy the summer months at our cabin, where we fish, boat, hang out by the campfire, and explore the outdoors.
Kandi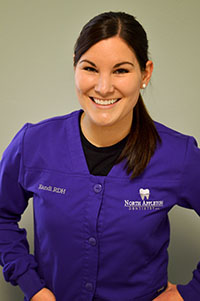 Dental Hygienist
I like getting to know my patients on a personal level. I focus on providing high-quality patient care and making every appointment as comfortable as possible so each person enjoys their time at the office.
I take radiographs, administer anesthetics, examine and clean teeth, and provide preventive dental care. A lot of my day is devoted to patient education, teaching ways to improve and maintain optimal oral health and a great smile.
When not working, I enjoy different outdoor activities, staying active, and spending quality time with family and friends.
Kathy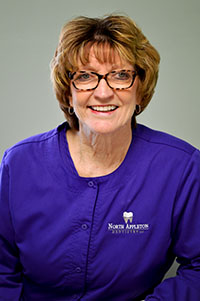 Patient/Insurance Coordinator
I look forward to coming to work because of our patients. I appreciate all they bring to our office and enjoy our interaction. It's great to know they're part of my extended family and I work hard to make sure they have easy visits.
I answer the telephones, schedule appointments, and handle emails and correspondence with specialists. I also work closely with patients on insurance matters, from submitting pre-approvals for treatment to collecting and posting payments and following up on claims.
Outside the office, I enjoy time with my husband of more than 35 years, our four children, and our nine grandchildren. We love family time and attending a lot of our grandchildren's activities. I also like cooking and gardening. Now that I'm working part-time I'm looking forward to doing some volunteer work.
Kay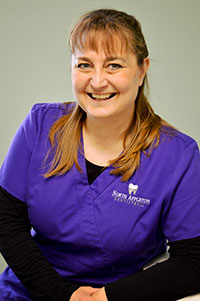 Dental Assistant
I really like working with our patients, doing my best to make sure they have a relaxed and comfortable visit. At the end of a procedure, when someone thanks me for making it easy for them, I'm thrilled!
My job covers an extensive range of duties. I assist the doctors with the many different treatments we provide and make sure our patient is comfortable and ready for their procedure. I take X-rays and impressions and work behind the scenes, too, handling in-office lab work, sterilization, and making sure the rooms are stocked and ready.
I grew up in Wisconsin, lived in Anchorage, AK for 22 years, and moved back to the area several years ago to be closer to family. I enjoyed all that Alaska offered but am now thrilled to be home with my loved ones.
Sarah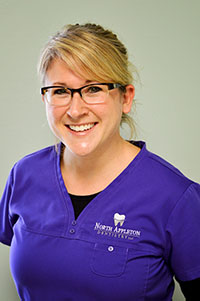 Dental Assistant
I love all the different people who walk through our doors. Spending time learning their stories and figuring out how we can best help them is one of the most rewarding parts of my job.
I work in the clinic, assisting the doctors with an array of dental procedures and offering patient care. I also take and pour cast models, sterilize tools and equipment, and provide a lot of patient education.
I spend my time away from work with my spouse and two kids. We love spending time outdoors. In the summer we love to fish and go boating with friends. In winter we have fun snowmobiling around the yard, ice-skating, and sledding.